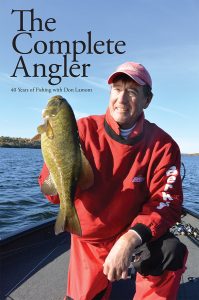 Born and raised in Winnipeg, Manitoba, Don Lamont realized his passion for fishing after a move to Prince Albert, Saskatchewan in 1979. After two years in Prince Albert he decided to become a fishing guide on the Winnipeg River. By 1989 he had his own television fishing show called The Complete Angler. Over the course of the 15 years that the show aired, Don got to travel far and wide across the western provinces. Many of these adventures are included in this book.
To purchase your signed copy of Don Lamont—The Complete Angler, click on the button below.
The price is $17.95 plus 5% GST and $4.99 shipping in Canada. Prices in Canadian Dollars.


I've known Don and worked with him over the past four decades. We filmed together, fished tournaments together, did seminars and radio shows together and Don Lamont is The Complete Angler. His understanding of the outdoor community and his long career in the outdoor communications field speaks for itself. Don is an asset to our industry.
Al Lindner, Lindner Media Productions
Don Lamont is a consummate angler, entertainer and educator. Experience the outdoors lifestyle in Western Canada with this collection that goes beyond field stories and pro tips to share in the family, friends and unexpected adventures that make the great sport of fishing. The Complete Angler is a must-read for aspiring and experienced anglers alike. Do not let this book get away!    
John Toone, author of Fishing for Dumbasses 
Dive deep into Don Lamont's lifetime experience as a pioneer in professional tournament angling and the emerging era of fishing TV shows. Read the fish-tales he's lived across Western Canada and the people who bring them to life. Whether it's lakes, rivers, species, or destinations, Don is generous with his knowledge acquired over 40 years and The Complete Angler holds plenty. 
Kevin Stobbe, publisher of Hooked Magazine